JALAL-ABAD STATE UNIVERSITY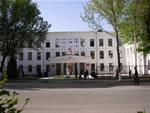 In 1991, when the republic of Kyrgyzstan received its independence from the Soviet Union, the Jaial-Abad region was also breaking away from its former administrative capital, the Osh region to the south. The need for trained specialists to develop resources and maintain existing technology became evident. On April 2, 1993, Jaial- Abad State University was opened in response to this growing need.
The Jaial-Abad oblast has new boundaries, but an ancient history. Similarly. JASU itself is actually five well-established institutions, each with its own academic strengths and unique traditions.
The primary campus of the University is located in the town of Jaial-Abad, the oblast's cultural and administrative center, and a modern town of 70,000. The main campus contains three of the University's five faculties, and 18 departments. The other faculties are in the towns of Kara-Kul and Tash- Kumyr. In addition, there are two colleges, in Mayluu-Suu and Kochkor-Ata. More than 4,300 students and 250 faculty members study and work together at Jalal-Abad State University.
Each campus of JASU reflects the character and history of its town. In Jaial-Abad itself, the University was built on the foundations of the old Jalal-Abad Pedagogical School, and the Zoological- Veterinary Technical School.
PROGRAMS OF STUDY
At the Business and Pedagogical faculty, 100 instructors supervise the following departments:
Mathematics
Physics
Biology
English Language
Foreign Language
Kyrgyz Language and Literature
Russian Language
Psychology
Philosophy
Physical Education
Computer Science
Economics
At the Zoological-Veterinary Technical School, thirty instructors teach in the following departments: Zoological/technological studies Veterinary studies (with a veterinary clinic) Forestry
The Technological Faculty is also located on this campus. Forty instructors and 277 students work in the following departments:
Chemistry
Food Products Technology
Mechanics
The Kara-Kul Technical Faculty was organized in 1963, concomitant with the construction of the Toktogul hydroelectric power station, the biggest in Central Asia. The school's primary purpose was to train specialists in building and management of the hydroelectric station. Graduates are in high demand not only in Kyrgyzstan, but in other developing regions of the world.
There are currently 40 instructors at the faculty, teaching about 500 students each year. The existing departments are:
Hydrotechnic Construction
Electrical Energy
Machine Building
Mathematics and Physical Sciences
Social Sciences
The Tash-Kumyr Technological Faculty, the newest part of JASU, was founded in 1990. Instructors teach in five departments:
Chemical Technology
Electrical Energy
Mathematics and Physical Sciences
Social Sciences
Industrial and Civil Construction
Kochkor-Ata Electronic Technical College was formed by the USSR Ministry of Electronic Industry in 1981. It was the first in the republic to offer electronics and microelectronics. Today students study:
Oil and Gas Development and Operations
Microelectronics
The Mayluu-Suu Electromechanical College, founded in 1965, has trained 4,000 graduates in electrical technology and metal technology. Mayluu-Suu offers education in the following fields:
Light Technology
Machine Building and Automation
Industrial Electronics
KYRGYZSTAN
One of the five newly independent republics in Central Asia. Kyrgyzstan gained its independence on August 31, 1991, during the breakup of the Soviet Union.
Under the leadership of president Askar Akaev, Kyrgyzstan has made great strides in economic reform and democratization, and boasts a climate of political and religious tolerance. Its central location among the republics has made it a common ground for diverse cultures, from Genghis Khan's empire to the era of the Soviet Union.
Kyrgyzstan's eastern border is China. To the north, south, and west lie the former Soviet republics of Kazakhstan, Tadjikistan and Uzbekistan. All of these peoples are represented in the population of modern Kyrgyzstan (4.6 million), and have lived together for centuries. Today, about 52% of Kyrgyzstan's population is Kyrgyz - 20% are Russian, 16% are Uzbek, and the rest are Kazak, Uighur and other nationalities.
The Jalal-Abad oblast borders Uzbekistan, and Uzbek influence is evident in the town, in orderly, well-kept shops and incredibly bright fabrics. The Kyrgyz, traditional shepherds and excellent horsemen, and Russians, with roots in Central Asia over 100 years old, complement each other in culture and temperament. Jalad-Abad is a microcosm of the diversity and promise of modern-day Kyrgyzstan.
LIBRARY RESOURCES
JASU's libraries and reading rooms currently house 58,000 volumes, 22,000 of them at the main campus. There is also access in Jalal-Abad to 12,000 books at the Academy of Science, 10,000 at the Biosphere Institute, and 18,000 at the Jalal-Abad city library.
The University receives 64 magazines and journals, and 18 newspapers. Almost all of these titles are published in Moscow. JBSU considers English critical in its pursuit of knowledge of western technology; its goal, as its English program expands, is to acquire English scientific and educational publications.
CONTACT INFORMATION
University Address: Jalal - Abad State University
57 Lenin Street
Jalal-Abad
Kyrgystan 715600
President: <>Tursunbek Bekbolotov, PhD
Phone + Fax: (33722) 3-22-06
Phone: 3-39-00
Vice President: Nurmat Jailobaev, PhD
Phone: (33722) 3-39-72
www.freenet.kg/jalal_abad/jala_e.html
Now you can see a few pictures from Jalal-Abad!
Contacts: zamir@japub.freenet.bishkek.su